EDGE RETRO COVER REBOOT, LIMITED TIME PRINT...
I have recreated my now 12 year old artwork for the Edge Retro Magazine Cover, this will be available to purchase in my Society6 shop here...
KWAAN NOMINATED AT INDIECADE...
Kwaan the Tiny MMO non-violent social game I have been art directing for Ankama Canada and the wonderful David Calvo is an Indiecade finalist, you can read more about it here...
SCRAM KITTY OUT NOW!
The game I was working on with Dakko Dakko last year is finally out on Wii U. Scram Kitty and his Buddy on Rails is available on Nintendo e-shop, check out the Eurogamer review here...
POCOFELTS PLUSH TOYS!
Teaming up with Pocofelts we have a selection of plush toys handmade and available on etsy, new additions are being added all the time, grab them here...
MONSTER HUNTER DEMAKE.
Ever wondered what Monster Hunter would look like if it came out on the Gameboy / Color? Well I did so I made this demake...
VIDEOGAME CITY V2.0 POSTER FOR SALE.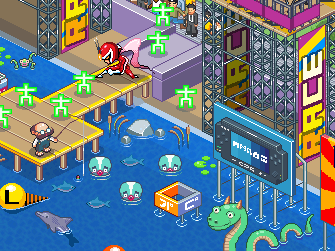 A new and updated version of my Videogame City poster is now available in a variety of print sizes here... Lots of other prints, iPad and iPhone cases available as well just follow the link.
CHRIS MOYLES HACKNEY DASH
Check out our artwork for Chris Moyles Hackney Dash. You can fire Chris across London and try and make it to Hackney in time for BBC Radio 1's Hackney Weekend. Play it here...
FLOATING CLOUD GOD SAVES THE PILGRIMS : PS MINIS
Our second game with Dakko Dakko is available now via Playstation Network. Here's a quote from the Edge review... 'Floating Cloud God proves that an unswerving focus on simple, enjoyable play mechanics can make for a heavenly portable experience. [8]'
SWEATSHOP: FREE TOWER DEFENCE GAME FOR CH4
Sweatshop: a free strategy game about money, fashion and dismembered limbs. We worked on this educational game for Channel 4 with the cool guys at Littleloud and the awesome Fritz Solares you can play it here... Bit of a vector graphics debut for Army of Trolls.
THE 2D ADVENTURES OF ROTATING OCTOPUS CHARACTER...
We worked on this incoming PSP Minis game with the guys at Dakko Dakko. It is a twitchy, fast paced platform game which you control with just two buttons, check out the trailer over at the Dakko Dakko website.
ANADIN UK TV ADVERT...
We worked on the character designs and pixel art with the lovely people at JS3D for this Anadin UK TV advert. Watch it on youtube HERE...
MAX AND AL'S HEAVY DUTY FACEBOOK / iPHONE GAME...
We worked with
Struck Axiom
to create the graphics for this Facebook game and iPhone app. Go play Max and Al's Heavy Duty over on Facebook,
Here...
iPhone version now available for FREE!
Here...
TRON LEGACY VIRAL MINIGAME PART 2...
The 2nd part of the Tron Legacy Viral Marketing campaign is live, Arcade Aid The Challenging Stage V 2.0 now has 167 games to guess here...
SOLD OUT/'FINAL BOSS' LTD EDITION CHARITY PRINT...
We have another Limited Edition print available through the Poster Cause Project. Can Japan survive attack from the 'FINAL BOSS' find out in this 12"x18" print, limited to 100 with all proceeds going from SpecialEffect Charity from now until 31st December, an excellent Xmas pressy for your videogame addicted other half. Buy it here...
VERSUS PROJECT
PRINTS SOLD OUT...
Versus is a project dreamt up by Dave Ashby who has somehow arranged 13 brilliant artists based in the South West to supply him artwork (on time). This work is being grouped together in a set of playing cards and sent out to over 100 of the top creative organisations. You can buy sets of cards and prints
here
... All of ours are now sold out but there is plenty of other great prints to buy so check it out.
RANDOM GALLERY

Evil Dead RPG Mock-up

Swordstick Gentry

Boosh Characters

Rock, Paper, NINJA!

Mr Toast

Robot from Edge Poster

Platform Game Characters

Panda Spaceship
ABOUT US...
Army of trolls is the portfolio of London born, videogame obsessed artist Gary J Lucken. Working from his Computer in Bournemouth, Dorset, UK, surrounded by Japanese toys and piles of old 2D videogames Gary produces a unique brand of colourful artwork heavily influenced by the videogames, toys and pop culture he loves so much.
For commissions contact me at info@armyoftrolls.co.uk

CLIENTS...
BBC, HONDA, DISNEY, JC PENNEY, USTWO, SONY, EDGE, FHM, NHS, YAHOO, DORLING KINDERSLEY, WIRED, THE GUARDIAN, GQ, NESTLE, STRUCK AXIOM, LITTLELOUD,
42 ENTERTAINMENT.